Looking to find your dream home in the Netherlands? Look no further than Funda, the go-to platform for finding Dutch housing listings. While the website might be predominantly in Dutch, don't be intimidated! In this comprehensive blog post for expats in the Netherlands, I'm breaking down for you the essential housing terms you will need to know to navigate Funda like a local.
1. Starting Your Search
Your house-hunting journey begins on the Funda homepage. The first step to finding Dutch housing is to choose whether you're interested in buying (koop) or renting (huur). Keep an eye out for "nieuwbouw," which means the house/apartment is newly built. Once you've made your choice, enter the city (plaats), neighborhood (buurt), or address (adres) in the search bar. You also have the option to set a minimum price  (van __€) and maximum (tot __€) price. When you're all set, just click the search (zoek) button and let Funda do its job!
2. Exploring Listings
Let's say you're looking for a rental (huur) property in the beautiful city of Leiden. Under the "soort aanbod" section, you'll discover a variety of housing types. Among these, you might find a quintessential Dutch "rijtjeshuis" – a terraced house complete with a quaint front garden (voortuin) and a cozy back garden (achtertuin). Curious about how long this listing has been up for? You can find this under "aangeboden sinds". If that's not a priority for you, simply opt for "geen voorkeur" (no preference). To narrow down your search further, tick the "beschikbaar" (available) box to view only currently active properties.
3. Finding Your Must-Have Features
Now let's tailor your search to meet your specific requirements. If you have a family, you might be on the lookout for a "eengezinswoning" (single family home) of a specific size (woonoppervlakte) with the desired number of rooms (kamers) and bedrooms (slaapkamers). Don't forget that "perceeloppervlakte" (lot size) will always include the garden space (de tuin), and measurements are listed in square meters (m2).
Given the rising importance of energy efficiency, finding Dutch housing with good energy performance is more important than ever. Check out the "energielabel" to gauge the house's energy performance, rated from A+++++ (excellent) to G (energy inefficient, not isolated). This will make a big difference when it comes to your utility costs once you move in! 
Looking for specific amenities or features in the home? You can also use Funda to filter for desirable features such as a swimming pool (zwembad) or a cozy fireplace (open haard).
4. Picking The Perfect Neighbourhood
The location (ligging) of your future home will make a big difference to your experience here in the Netherlands. Are you looking for a central residential area (woonwijk) close to work or schools, or would you prefer the peace and quiet of a rural setting (landelijk gelegen)? You can customize your search easily depending on where you would like to live using the radius feature. You can look for homes within a radius of 0 km to 50 km from a city or location of your choice. Once you've made your search, you can click the map button (kaart) next to the search bar to visually see the locations of available homes.
Bonus: Practicing For The House Visit
Once you find your dream place, you'll be needing to visit and meet with the real estate agent. Gain confidence by listening in on a typical conversation with a real estate agent by reviewing the "bij de makelaar" chapter and accompanying audio recording available in my free eBook, "12 Everyday Conversations in Dutch.". You can also review some of the vocabulary terms related to housing below.
Ready? Let's go!
You're now ready to get started with finding your dream home here as an expat in the Netherlands! The Dutch housing market isn't always the easiest, but I hope this blog post has helped you feel more comfortable using the available tools and resources with confidence. You can review the full vocabulary list below to help you practice!
Looking for additional support with your adjustment period as you start your new life in the Netherlands? Check out my ebook "Settling in the Netherlands". It's your essential guide to Dutch vocabulary and phrases as you settle into your new life in the Netherlands, including topics related to housing and meeting your neighbours! The ebook also includes insights into Dutch culture that will help you better understand the new country and culture around you, as well as an audio accompaniment to listen to the proper pronunciation and quickly increase your understanding.
Glossary of Terms
DUTCH

aan park

ENGLISH

adjacent to park

aan rustige weg

on quiet road

aan water

on the water

aangeboden sinds

listed since

achtertuin (de)

back garden

adres (het)

address

bad (het)

balkon (het)

bath

balcony

beschikbaar

available

bouwperiode (de)

building period (built between …. and …..)

buiten bebouwde kom

outside of town

cv-ketel (de)

central heating boiler

dakterras (het)

roof terrace

duurzame energie (de)

sustainable energy

eengezinswoning (de)

single family home

eigenschappen

features

energielabel (het)

energy label

geen voorkeur

no preference

huur

rent

in centrum

in the city centre

in onderhandeling

in negotiation

kamer (de)

room

keuken (de)

kitchen

kluswoning (de)

property needs renovation

koop

buy

 
 
ligging (de)

location

makelaar (de)

real estate agent

nieuwbouw

new built/ new construction

openhaard (de)

fire place

parkeergelegenheid (de)

parking space

perceeloppervlakte (de)

lot size

plaats (de)

city

rijtjeshuis (het)

terraced house

slaapkamer (de)

bedroom

soort aanbod

home type

tuin (de)

garden

tuinligging (de)

position of the garden

verkocht/ verkocht onder voorbehoud

sold/ sold "under reservation" (offer accepted, but sale not yet finalized)

voortuin (de)

front garden

vrij uitzicht

free view

woonoppervlakte (de)

square feet

woonwijk (de)

residential area

zoek

search

zuid, west, oost, noord

south, west, east, north

zwembad (het)

swimming-pool
---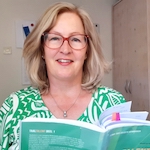 You can learn more about my Dutch course options here, or contact me for more information. I would also encourage you to sign up to receive my newsletter in which I share updates and exclusive Dutch learning content for expats! If you want to get to know me and my teaching style first, you are welcome to check out student testimonials or join one of my free trial classes… I hope to see you there!