Learning Dutch can be an exciting and rewarding experience, but it can also be a daunting task, especially when it comes to learning vocabulary. Luckily, a lot of research has been done into vocabulary building. We now know exactly how many Dutch vocabulary words learners need to know for the various language levels of the CEFR (Common European Framework of Reference), which words to select, and how to acquire new vocabulary intentionally. This is why having a professional Dutch teacher (like me!) is so valuable – we understand exactly what to work on and in what sequence to help you reach your language goals quickly and effectively.
How many Dutch vocabulary words do I need to learn?
First, let's talk about the number of vocabulary words you need to know to reach different levels of proficiency. Below you can see an overview of the minimum number of words which is required for each language level. This may seem a lot, but first-year Dutch university students know between 25.000 and 40.000 words!!!
What I think is very interesting is that as we become more fluent, we use more words (of course), but it is in the understanding that you see the biggest difference in the number of words! This is why social learning (like I do in my group courses) and actually taking part in conversations around you (or in my conversation course!) is so crucial as you progress.
Which Dutch vocabulary words do I need to learn?
So, which Dutch vocabulary words are essential for each level? The Dutch dictionary "Dikke van Dale" contains around 300.000 words. Fortunately, not even a native speaker needs to know so many vocabulary words. However, for beginners, it's important to focus on the words which are most frequently used in everyday situations. Any good Dutch coursebook has selected around 2000 basic words, usually grouped into topics like housing, shopping, and transport.
A handy tool to look up whether a Dutch vocabulary word is among the most frequently used words is this free online tool from BureauTaal. Just type in a word and it will tell you whether this is a word you should know at level A2 or B1.
Is just translating vocabulary words enough?
Especially when you want to use a word in speech or writing you have to know more about a word than just the equivalent translation in your language. This is also one of the limitations of using Google Translate, which only provides you with a direct translation.
In order to use a word correctly you need to know the pronunciation, word stress, spelling, grammatical function, common combinations with other words, and the context in which a particular word is used. Just to illustrate this, let's look at the Dutch vocabulary word fiets below. As you can see there are seven other aspects to know about this word in Dutch beyond just its meaning!
Focus on the maximum impact words, not the maximum number of words
Once you know which Dutch words you should remember and which words you don't need to focus on at your stage of learning it makes the task of learning vocabulary much clearer and less daunting. This is one of my areas of passion as a teacher: ensuring my students are learning the most impactful Dutch vocabulary and language skills that they will use constantly and then helping them build and expand upon that base knowledge. It's not about knowing the most Dutch vocabulary words – it's about knowing the most important words you'll use every day and being able to use them confidently.
---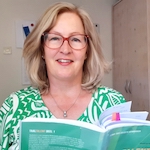 You can learn more about my Dutch course options here, or contact me for more information. I would also encourage you to sign up to receive my newsletter in which I share updates and exclusive Dutch learning content for expats! If you want to get to know me and my teaching style first, you are welcome to check out student testimonials or join one of my free trial classes… I hope to see you there!