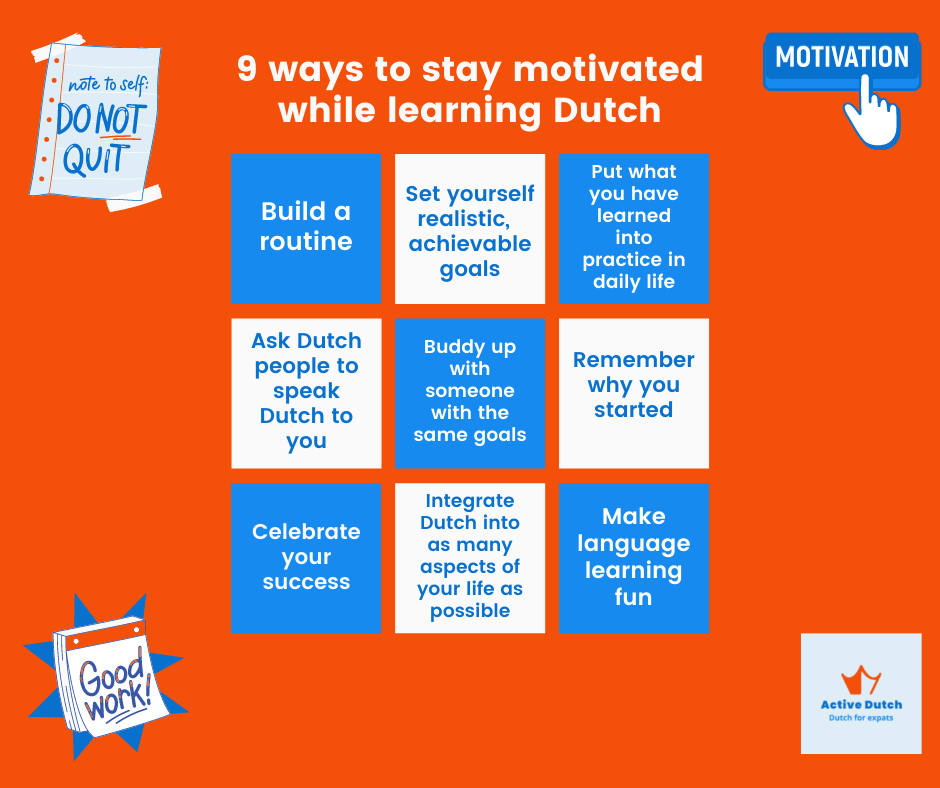 If learning Dutch is one of your New Year's resolutions, congratulations! You are about to take the first steps to feeling more comfortable, connected, and confident here in the Netherlands.
Getting started is a challenge, but to practice and stay motivated while learning Dutch is another challenge entirely! That's why I have made this bingo card for you with nine tips to help you keep motivated while learning Dutch. (For even more motivation, download the picture and make it your laptop or phone background for daily reminders!)
I hope these tips will help you to develop and maintain your motivation for learning the Dutch language. Let me know in the comments (or send me a message on Facebook or Instagram) when you have ticked all nine boxes.
1. Build a routine
Learning a new language requires a lot of repetition, so try to work on improving your Dutch every day. It's better to study for short periods every day instead of cramming once a week just before your next class. Even if you just listen to the same dialogue or repeat some new vocabulary, this will yield major results in the long term. Creating a fixed time slot every day to study Dutch can help you build a routine and make studying a habit over time.
2. Set yourself realistic, achievable goals
Everyone wants to learn to speak like a native Dutchie within as little time as possible. This might be a long-term goal, but setting yourself overly ambitious goals means it will take a long time to feel like you have accomplished something. This can be detrimental to your motivation and may give you the feeling that you are never going to master the language. Instead, set yourself multiple smaller goals which are achievable every day, each week, or monthly. For example: "I'm going to learn five new words every day" or "I'm going to watch a Dutch movie every week."
3. Put what you have learned into practice in daily life
Be proud of every step in your language learning journey! When you are just starting you will make fast progress, so try to put the new vocabulary and phrases you have learned into practice in daily life as soon as possible. Even as a beginner you can start greeting people in Dutch, trying to read Dutch instructions, or asking a simple question in a shop. Focusing on the things you can now do in Dutch and using them out in the real world will give you a huge sense of achievement! And if you are interested in a free resource to help you have more daily conversations in Dutch, check out my ebook 12 Everyday Conversations in Dutch.
4. Ask Dutch people to speak Dutch to you
Most Dutch people will automatically switch to English as soon as they hear a foreign accent. We are just trying to be helpful, but this can be frustrating if you are trying to practice! Just politely tell people that you are trying to learn Dutch and that they can help you by repeating things or speaking more slowly. You can always ask a person to slow down: "Kunt u iets langzamer praten, alstublieft?" ("Could you speak more slowly, please?") or "Kunt u dat herhalen?" ("Could you repeat that, please?").
5. Buddy up with someone with the same goals
It's always nice to know that you are not the only one who is having difficulties when learning something new. Students in my group courses don't just get support from me, but often ask questions via our WhatsApp group to their fellow students and share tips or frustrations! It's easier to stay motivated while learning Dutch if you have others like you to lean on for support and encouragement. If you are not taking a group course right now, you might be able to find a language buddy through one of the many Facebook groups for Dutch learners.
6. Remember why you started
When you make the decision to start learning Dutch you probably have a specific goal in mind. Perhaps you wanted to feel more confident in everyday situations or you wanted to make Dutch friends. When you are feeling like giving up, think back and remind yourself of the reason why you wanted to learn Dutch and refocus on that. This will boost your motivation to continue!
7. Celebrate your success
Make your goals visual and put them on a calendar or vision board. Each time you have accomplished a task, tick off that goal and celebrate your success by rewarding yourself for your hard work!
8. Integrate Dutch into as many aspects of your life as possible
It's easier than you may realize to bring more Dutch into your life! For example, watch your favourite TV show with Dutch subtitles or listen to a playlist of Dutch songs (choose your favourite genre!) on Spotify. You can also change the language of your phone and laptop to Dutch with only a few clicks. Join a local Facebook group and follow conversations in Dutch about a topic that interests you. If you have children, you can read them a simple bedtime story in Dutch to help you practice your pronunciation. None of these activities cost extra time or money and are easy to integrate into your busy schedule.
9. Make language learning fun
Language learning shouldn't be stressful or boring! Try learning and revising vocabulary using game-based apps like Quizlet, where you can use flashcards to learn vocabulary and play games to test yourself. For more intermediate students, try listening to an educational Dutch podcast like Praat maar raak or 5-minuten Nederlands to practice your listening skills.
---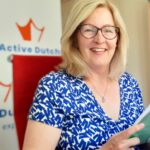 You can learn more about my Dutch course options here, or contact me for more information. I would also encourage you to sign up to receive my newsletter in which I share updates and exclusive Dutch learning content for expats! If you want to get to know me and my teaching style first, you are welcome to check out student testimonials or join one of my free trial classes… I hope to see you there!