DUTCH DELIGHT
A fast and fun 3-week immersive for beginners
January 29-February 16, 2024
IN PERSON IN LEIDEN
This is not your normal "intensive" course… with long lectures and endless textbook exercises. We're going to have FUN and learn in a relaxed setting.
We will be doing lots of interactive speaking activities like role-plays and speed-dating. With domino games, running dictations, matching games and quizzes, you will practise new grammar and vocabulary. And everybody will be engaged using their own mini-whiteboards.
"I really enjoyed the activities and games that we played to make use of the key vocabulary and to practise making sentences in Dutch."
A stress-free program and schedule that works with your brain
Unlike other intensives, there are plenty of breaks to relax and socialise with your classmates. This way you will stay focused and your brain won't get overloaded.
Although this is an intensive course, you go home after an intensive day and relax. Because the days in between are meant to go over what you have learnt the previous day and to prepare for the next class.
And don't worry if you are not a linguist, because I like to keep things simple by using visuals and avoiding unnecessary linguistic terms.
| | | | | |
| --- | --- | --- | --- | --- |
| Monday | Tuesday | Wednesday | Thursday | Friday |
| Class from 10:00 to 16:00 in Leiden | Self-study day | Class from 10:00 to 16:00 in Leiden | Self-study day | Class from 10:00 to 16:00 in Leiden |
Monday
Class from 10:00 to 16:00 in Leiden
Tuesday
Self-study day
Wednesday
Class from 10:00 to 16:00 in Leiden
Thursday
Self-study day
Friday
Class from 10:00 to 16:00 in Leiden
This course will run from January 29 – February 16, 2024. During these 3 weeks, we will meet on Mondays, Wednesdays, and Fridays. You will have five hours of tuition per day from 10.00 – 16:00, with two coffee breaks and a 30-minute lunch break.
Daily Class Schedule
LESSON 1: 10:00 – 11:00
Coffee break: 11:00 – 11:15
LESSON 2: 11:15 – 12:15
Lunch break: 12:15 – 12:45
LESSON 3: 12:45 – 14:00
Coffee break: 14:00 – 14:15
LESSON 4: 14:15-16:00
Kick start your Dutch with other expats
Two ways to quickly feel at home in the Netherlands? Learn the language and make new friends. 🙂
Unlike the intensive courses offered by the universities, socialising with other expats is an integral part of this course. Engaging activities and interactive exercises not only enhances your learning, it also fosters connections with your classmates.
The course is limited to 8 people to ensure a cosy, personalised experience. We will meet in a cool, contemporary space called Element Offices Leiden, conveniently located next to Leiden Central Station.
And we'll wrap it all up with a fun field trip to practise what you've learned and celebrate with drinks at a local Leiden pub.
DUTCH DELIGHT: Here is everything included
An intensive 3-week programme with 45 hours of teaching

We are starting from scratch and within three weeks you get a solid foundation (level A1 CEFR)

Personal attention with a maximum of 8 students in the group

You will practise all four skills: listening, speaking, reading and writing

We will use top-notch teaching materials,

Code+ part 1 0-A1

plus my own teaching materials

A WhatsApp group to ask questions and share useful tips

A shared Google Drive folder with all the class presentations plus extra learning materials

A vibrant classroom space with free coffee, tea and water

A fun field trip in Leiden and a "borrel" with typical Dutch snacks

A certificate of attendance
+ BONUS: Free copies of my ebooks below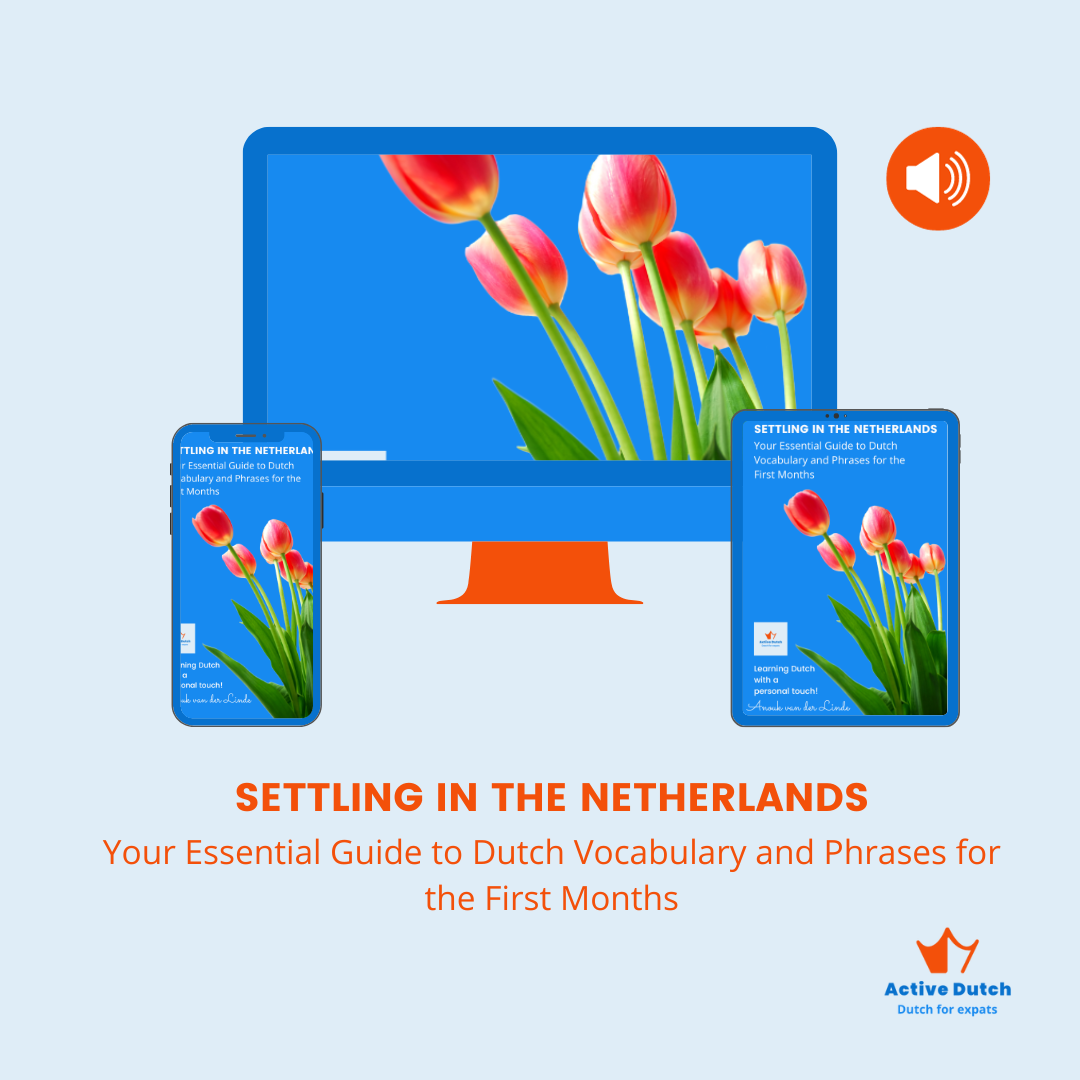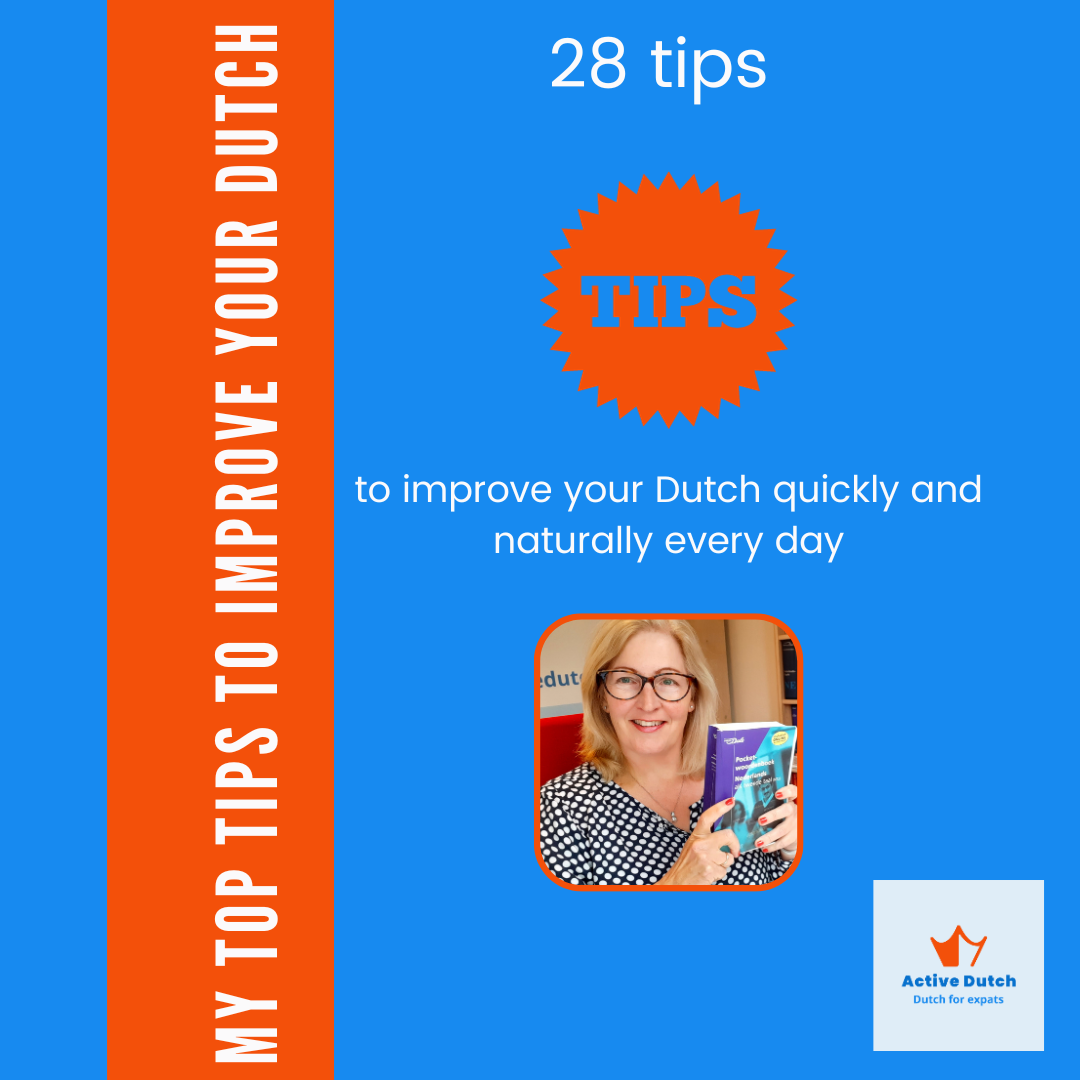 The regular course price is €1125 + €46,90 for the course book. (You will need to purchase the book yourself.)
But if you sign up before January 15th, you can get the Early Bird price €995. 
If you enrol together with a friend, you each get the course book for free!
Your questions, answered.
Who is this course perfect for?
You are an absolute beginner, just starting your Dutch language learning journey. You may also be an expat and new to the Netherlands, so you want to learn Dutch in order to feel more connected in your new home. You are at least 25 years old, speak good English, and love the idea of meeting other expats in a fun and friendly environment, while at the same time, making a serious commitment to learning.
Will there be a follow-up course? 
If there is enough interest, I can offer a follow-up course from level A1 to level A2.
Does this course prepare for the Inburgeringsexam A2?
If you do the follow-up course leading to level A2, you will have reached the level required for the exam. However this is not exam training.
Do I have to pass a test?
You can do an online test at the end of the course in your own time, but this is not obligatory.
Where will the course take place? 
At Element Offices, Bargelaan 200 Leiden, just around the corner of Leiden Central Station.
How much time do I need for self-study?
On average you will need 3-4 hours to prepare for each class.
Can I combine this course with my work?
No, you need to do some self-study on the days in between.
Do I have to speak English?
Yes, you need at least level B1 to participate.
When and how can I pay?
You will get a payment link via Stripe when your enrollment has been confirmed. There are two payment options: iDEAL or credit card. Payment is due upon registration. The full course fee has to be paid before January 15th. 
Can I pay in two instalments?
Yes, the first instalment has to be paid upon registration (50%) and the second half no later than January 15th.
Want to meet me and get to know my teaching style?
On Friday, January 12th you can attend an online trial lesson from 10.00 – 11.00.
My name is Anouk and I'm a certified Dutch language teacher. I'm based in Alphen a/d Rijn and lived and studied in Leiden. I completed my NT2 teacher training at the Vrije Universiteit Amsterdam. 
Before I started my own language school Active Dutch, I taught refugees, expats and students at various big language schools and universities. Then in 2019 I started my own school, because I wanted to offer Dutch lessons in a more personal, relaxed and stress-free setting. 
Having been an expat in Turkey myself I can relate to my students struggling to adjust to living in a new country without speaking the language.