With the Netherlands being such a small country, taking a Dutch day trip is the perfect way to explore the country, whether you choose to travel by bike, train, or car! It's also a great opportunity to see something new, gain a new appreciation for your new home, and practice the language along the way!
Although I have lived in the Netherlands all my life I have yet to visit all 12 provinces, so I decided to talk about what I know best. Here are my 10 favourite Dutch day trips in my province of Zuid-Holland. 
1. Museum Voorlinden in Wassenaar
This is a private museum with a beautiful collection of modern and contemporary art and is surrounded by a beautifully landscaped garden. My favourite work of art in the permanent collection is the Swimming Pool Illusion by Argentinian artist Leandro Erlich (1973) – above is a picture of my sister Valérie and I visiting!
2. Het Panbos in Katwijk
This is a nice forest near Katwijk. It's especially nice for children because it has a deer park, a duck pond and some playgrounds. You can even walk along an armoured wall, which is a remnant from WWII. Dogs are also allowed as long as they are on a leash, so I'll sometimes make this Dutch day trip with my dog George too!
3. Courtyard walk (Hofjeswandeling) in Leiden 
During my studies at Leiden University and then until 2000 I lived in the "Willemshof", one of Leiden's 35 courtyards – see my old house in the picture above! These historic courtyards are still inhabited and are very secluded places off the main street. I would recommend buying a courtyard walking tour map at the VVV tourist office because it's so easy to miss all these unique courtyards.
4. The windmills of Kinderdijk
The mills at Kinderdijk are on the Unesco World Heritage list, so it's a popular Dutch day trip for locals and tourists alike. The canals, mills, and pumping stations at Kinderdijk have kept our feet dry for over 700 years! You can visit a pumping station, hop on a tour boat to admire the mills from up close, visit a museum mill, or have a peek inside one of the mills to experience what life was like in the 1950s.
5. The cheese market in Gouda
When tourists think of the Netherlands they usually think of windmills, tulips and cheese. Our most famous cheese is Gouda cheese. This cheese has been traded for centuries at the cheese market in the centre of town. From 1395 to today Gouda cheese has been produced in the traditional way at local farms. The farmers then take their cheese to the market on traditional wagons drawn by horses. Every Thursday morning from April to August (exact dates change yearly) you can see the farm boys and girls in their traditional costumes at the cheese market.
6. De Nieuwkoopse Plassen (the lakes near Nieuwkoop)
The Nieuwkoopse Plassen exist of a large area of moors with many small canals. The lakes are situated near the villages of Nieuwkoop, Noorden and de Meije. It's the ideal Dutch day trip if you like canoeing and rowing. If you are looking for something less active, you can also take a trip on an electric boat called a fluisterboot to spot rare birds and plants and enjoy the tranquillity of this beautiful nature reserve.
7. Briele (also known as Den Briel)
Briele is best known for having been the first town to be freed by Dutch watergeuzen (Protestant rebel sea beggars) from the Spanish occupation during the Dutch revolt of the Eighty Years' War (de Tachtigjarige Oorlog). The city was captured by the watergeuzen on 1 April 1572 and every year this date is being celebrated by locals, dressed in 15th-century costumes reenacting the battle against the Spanish.
You can easily explore this picturesque little town on foot and if you want to know all about the Eighty Years' War, you can pay a visit to the historic museum of Den Briel (Historisch Museum Den Briel).
8. Madurodam in The Hague
Madurodam is a miniature park in The Hague and it's a great Dutch day trip option for families. It features miniature 1:25 scale model replicas of the Dutch landmarks from each province. For children, there are also special interactive attractions, including loading containers onto a cargo ship in the miniature port of Rotterdam.
9. Rotterdam's skyline
Speaking of Rotterdam… this city's modern skyline is a must-see! Rotterdam is known for its harbour and modern architecture. Walk along the river Maas and admire the Erasmus bridge and the three towers designed by the famous Dutch architect Rem Koolhaas. And don't miss the market hall (De Markthal), a beautiful building and a paradise for foodies full of stalls selling fresh food, snacks, meals, and drinks.
10. Koninklijke Porceleyne Fles in Delft
Delft is a picturesque town known for the manufacturing of Delfts Blauw (a blue and white Dutch pottery style). "De Porceleyne Fles" established in 1653 is the last remaining manufacturer of Royal Delft. If you are interested in the history and production process of this hand-painted Delftware, this factory is well worth a visit.
---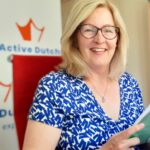 You can learn more about my Dutch course options here, or contact me for more information. I would also encourage you to sign up to receive my newsletter in which I share updates and exclusive Dutch learning content for expats! If you want to get to know me and my teaching style first, you are welcome to check out student testimonials or join one of my free trial classes… I hope to see you there!